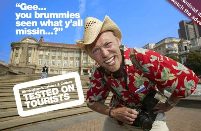 We have subscribers and clients that are relocating to the Huntsville area from all over the country. I moved here through Kansas City and St Louis and my husband to be via Seattle, so we know how typical Alabama stereotypes can make some of us a bit anxious about the move, well at least at first. 🙂
However, many are not bothered by stereotypes and are more interested in such things as schools, medical care, housing, and quality of life issues in general. Thus, when I read an interesting article from ABC news today that ranked states for their quality of Children's Health Care, I just had to pass on some of their findings to those readers who are anticipating relocating.
The Northeast and Heartland States dominated the top of the rankings and the Southern States the lower portion of the list. No surprise right!! However note this excerpt regarding Alabama's ranking:
Among Southern states, Alabama stood out as an exception to the trend, ranking 14th overall for kids' health care.

Certainly with regard to Alabama, it was a matter of leadership. The state was the first one to take advantage of the state child health care program in 1997. It was also very efficient at forging a public-private partnership specifically with Blue Cross Blue Shield of Alabama.
The complete article can be found here.
Kind Regards,
Beth