April 2008 – Metro Area Market Summary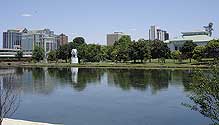 One study we like to do each month focuses on the Huntsville Real Estate MLS areas. This is personally useful for us in that it helps us to better serve our clients, but it is also informative for local buyers and sellers and especially helpful for those that are relocating to Huntsville and are researching potential neighborhoods and planning exploratory visits.
When considering minimal commute times to major employment districts, the Huntsville Real Estate market is made up of seven search-able MLS areas. You will find these primary search locations in the table below, in our Quick Property Search widget on every page of the website, and in the Detailed MLS Search menu on our property page.
In this post we take a brief look at the different Huntsville Real Estate areas for April 2008. The compiled statistics will show each area's current supply, demand, average price, appreciation rate, and associated market type (Buyer or Seller) all illustrated in the following graphic:
Just a note on the source of the statistics provided above: The
Home Sales Per Month
is the average number of unit sales per month over the last four months. The
Months of Supply
is the absorption rate inventory derived by the current (May 1, 2008) Number of Active Listings / Average Monthly Sales. The
Average Price
is the mean selling price per square foot of all sales regardless of price range over the last 12 months (i.e. May 2007 – April 2008). The
Price Appreciation
rate is the mean appreciation calculated using the 2006 – 2008 (May – April) annual average price per square foot, thus it reflects the price difference from the average price of 2 years ago with the average price over the last 12 months.Since so many of our clients are technical professionals and know that sometimes statistics reveal anomalies that just plead for explanation, we need to provide a little more information on the 13.16% appreciation rate of the Southwest Huntsville area. Over the last two year time period that was used in this calculation, several homes in the new Lake Forest subdivision have been completed and sold. This subdivision has many high-end homes some exceeding a million dollars. Thus this statistic likely reflects that the average cost of homes in this area increased due to these upper-end home sales rather than an inherent across the board property value increase. In a
previous entry
we have discussed this kind of phenomenon and I will refer you to it for any further information.