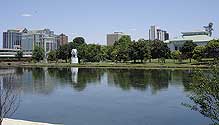 One of the things we like to do for our buyer clients, especially those that are relocating to Huntsville, is to provide a market condition snapshot of their favorite areas and limit our analysis to their explicit price range. Then during their house hunt visits we will focus our showings in their favorite areas with this valuable knowledge available in the event our client wishes to make an offer.
In this post we take a brief look at the $200k – $300k market segment across the different Huntsville Real Estate metro areas. The compiled statistics will show each area's current (May 1, 2008) supply, demand, absorption rate, price appreciation rate, and the associated market type (Buyer or Seller) all illustrated in the following graphic:
Huntsville/Madison Metro Area
$200k – $300k Market Segment Snapshot
Market Segment
Demand
Per Month
Current
Supply
Months
of Supply
Last-Year's
Appreciation
Market
Type
Northwest Huntsville
1.75
31
17.71
2.08%
Buyer
Northeast Huntsville
0.5
11
22
11.7%
Buyer
East Huntsville
8.5
49
5.76
3.0%
Balanced
Southeast Huntsville
13.25
92
6.94
3.1%
Transitional
Southwest Huntsville
9.5
72
7.58
0%
Buyer
Madison City Limits
16.25
131
8.06
0%
Buyer
Madison Outside City
14.25
145
10.18
0%
Buyer
Just a note on the source of the statistics provided above:All of the statistics are isolated to our
Target Price Range
of $200k – $300k only. The
Demand Per Month
is the average number of unit sales per month over the last four months. The
Current Supply
is simply the number of current active MLS listings.
Months of Supply
is the absorption rate inventory derived by Supply/Demand. And
Last Year's Appreciation
rate is calculated using the 2006 – 2008 (April to May) annual average price per square foot, thus two years of pricing data is normalized to May 1, 2008.Since so many of our clients are technical professionals and know that sometimes statistics reveal anomalies that just scream-out for explanation, we need to provide a little more information on the 11.7% appreciation rate of
Northeast Huntsville
. Within this area of the City at this price point, exists the
Historical Five Points Neighborhood
near the downtown business / entertainment district. And as the old adage so correctly states:
Real Estate Pricing
is based primarily on Location, Location, Location. So the statistic above is dominated by this very unique neighborhood that must been shown to be appreciated.
If you are currently investigating buying or selling a Huntsville Home and not already working with a Realtor we would certainly welcome an opportunity to interview for your business and provide additional information in your particular price range across a number of Huntsville Neighborhoods around the area.