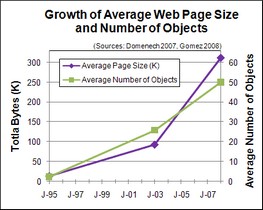 There was a lot of thought given to what screen resolution in which to design our Huntsville Real Estate website. Old school wisdom says, design for 100% market coverage while many professionals recommend moving on from the early days of website designs catering to the 800 x 600 resolution.
Our own internal study indicated that we were likely to alienate 4-6% percent of computer users if we decided on a wider resolution design. Nevertheless given the high rate of current broadband users, we decided to utilize current technology and go with the extra bandwidth/resolution to tell our story the best that we could.
Moreover it doesn't seem that we are alone in this decision, given a recent article at WebSiteOptimization that states the following:

The size of the average web page has more than tripled since 2003. From 2003 to 2008 the average web page grew from 93.7K to over 312K (see above Figure), some 233% (Domenech et al. 2007, Flinn & Betcher 2008). During the same five-year period, the number of objects in the average web page nearly doubled from 25.7 to 49.9 objects per page. Longer term statistics show that since 1995 the size of the average web page has increased by 22 times, and the number of objects per page has grown by 21.7 times.