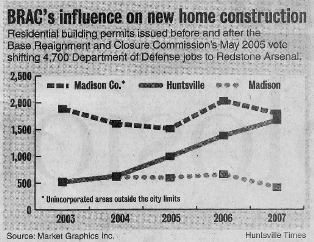 According to the April 20th, 2008 Huntsville Times:
Depressed sales in Virgina are impacting our area. …We would likely be in boom times right now if the Virgina market would recover. …People that are supposed to be moving here can't seem to sell their homes.

The number of new housing permits issued county-wide jumped dramatically after the BRAC decision, from 3,100 in 2005 to 4,065 in 2006. Builders seemed ready to top the 4,000 home mark again last year but fell just short after a sales slowdown in the fall.
The article further states:
While there is a big hunger for new homes some builders may have overestimated people's appetite. …The good news is that most builders have now recognized the problem and have slowed the pace of their construction accordingly.
Joe Murphy of MarketGraphics Inc. stated in a January interview that:
The market is correcting itself perfectly and we are likely to have a strong spring, in New Market, Hazel Green, Harvest, Madison, Southeast Huntsville, and Hampton Cove. But it's going to take longer on Ziert Road in Southwest Huntsville and Eastern Limestone County where more than $30 million worth of new homes remains unsold.
In our Madison Real Estate Absorption Rate post of two months ago we documented a 22 month inventory of these high end homes identifying the existence of real buyer's market pricing pressure in all of these areas in the upper end price segment. It is also no surprise that even moderate sales of this existing inventory is skewing the average home price in our area to well above $300k in Madison, Hampton Cove, and Southeast and Southwest Huntsville. However, as we have previously stated this price skew is not a true indicator of rising home prices in our area as real appreciation has flattened over the last 12 to 18 months with several areas seeing some moderate price decreases since the fall of 2007.
We will be keeping a close eye on the Huntsville Real Estate market and updating our subscribers on how inventory and pricing is effected into the spring quarter of April, May, and June. Typically the spring and summer quarters see an increased sales level and we expect this seasonal trend to repeat itself this year but our pricing expectation is one of little to no price increase from current levels until some of the excess inventory is worked out of the market.