Taking a brief look at the MLS statistics for March gives us an opportunity to take a snapshot of the Huntsville Real Estate market and evaluate evolving trends. The statistics we will use in this analysis are only for the single family home segment of the market. Thus in this post we will take a brief look at March's year over year supply, demand, and price dynamics to get a feel of how our area's market is performing.
A brief look at March's year over year statistics indicates: overall supply has increased by 1.25%, demand has decreased dramatically year over year with 27% fewer sales this month verses the same month last year, leading to a 38% increase in absorption rate inventory, leaving us with a current 8.74 month supply of single family homes. The following charts illustrate these year over year supply and demand fluctuations: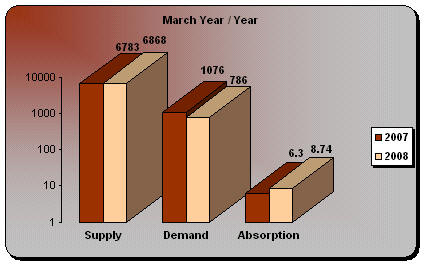 Given our recent market studies over the last few months, the indicators reveal that supply and demand are both slowing, however demand as measured by units sold is slowing at a greater rate: -27% this month year over year. In our next
local market trend
post, we will take a look at the first quarter as compared to same quarter last year and these indicators should smooth a bit and give us a better overall feel for the
Huntsville Homes
market.Supply and demand fluctuations are generally met with price dynamics in any market regardless of the product. Since we have been experiencing a short term demand slowdown how has pricing been effected? We like to looking at a square foot price history of our market because this statistic helps to measure apples to apples in a better way than average selling price. We also like to look at pricing along side its 12 month moving average to enable a comparison of the month to month swings with the longer term average price trend. The following chart is provided for this visualization: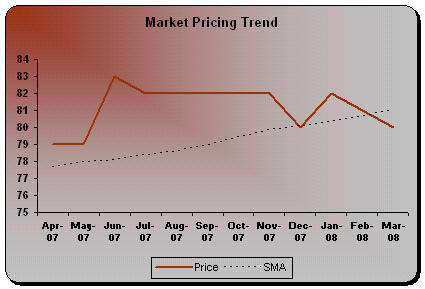 In conclusion: While the Huntsville real estate market remains one of the strongest in the region, it is currently experiencing a sales slowdown with some moderate downward pricing pressure. Given recent market statistics, one might wish to conclude that with a current 8.74 month supply of inventory, along with recent downward pricing pressure that we have definitely entered a buyers market.
However, I would caution readers that these are general market statistics across the North Alabama MLS and in actuality there are many mini-markets primarily determined by neighborhood and price range. For an example of a more granular analysis see our Madison Alabama real estate market study of a couple of months ago.
If you are currently in the market as a buyer or seller, it is important that you have representation that understands the ebbs and flows of the local market at neighborhood granularity and if you currently don't have an agent we would certainly like an opportunity to interview for your business.