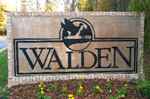 Walden is an upscale subdivision located in Madison, Alabama with 164 home sites. It has large wooded areas preserved in their natural state via conservancy easements and the main entrance of the community hosts a private park with a lovely small lake. A clubhouse, and Junior Olympic size pool are also available for use by homeowners and their guests.
Walden is in a unique price niche (upper $300k – lower $400k) for its location, as it is surrounded by neighborhoods that are less and more expensive. The closest comparably priced neighborhood is Browns Ferry Crossing, however Browns Ferry Crossing is new construction in its infancy and barren of wooded areas and trees, whereas Walden's major construction occurred during 2002-2005 and an effort was made to save established trees especially in its 1st phase.
Given its price niche and neighborhood uniqueness Walden's property values have appreciated slightly more than the Huntsville real estate market overall, especially in 2004 and 2006. The current inventory absorption rate is also less than the overall Madison market for this price range. The 5 year appreciation rates using the average square foot sales price history are illustrated in the following chart: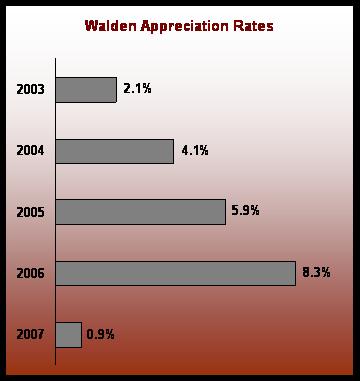 If you're in the Madison real estate market as a buyer this is a neighborhood you don't want to miss. Whether buyer or seller and not already represented, I would certainly welcome an opportunity to interview as your agent or if you just have some additional questions please don't hesitate to email me, I will be glad to assist you anyway I can.